Making my way through one of many superimposed arches, into the vaulted bowels of this historic Roman Amphitheatre, I feel a sense of Christmas Eve-style anticipation of the imminent vista, as much as the music. Your seat allocation is scrawled in permanent marker on rickety, sun-bleached planks nailed down to terraces which once applauded/winced at the evisceration of animals, gladiators and probably christians (Not THE Christians; 'Harvest for the World' was alright). For all the talk of plebs' seats, at least the Romans afforded them a decent view and flawless acoustics from our lofty perch, which is more than can be said for your nearest Duff Enormodrome. This, it must be said, is a glorious setting.
Some hard, relentless techno is played before the main acts, pulsing through stone and flesh in what has become the oldest, most impressive club on the planet. I'd gladly watch folk get eaten to this. Caribou's combo cluster together like penguins in a small area of the stage and cheerfully kick out some soulful electronica jams, fleshed out with heavy live drums and distinctly old-skool keyboard riffs. The sun has begun to set, and this is perfect entrance music as the crowd swarms to the epicentre through Tuscan pilasters.
It's no doubt been a tough few weeks for Radiohead, losing a friend and an important part of their live team. As I understand it, quite a bit of their non-standard backline was written off' in the stage collapse too. They couldn't have wished for more welcoming surroundings to get back on the bike. 'Bloom' comes clattering out; twin drums Eurolinked down from Dusseldorf, bass punctuation cooked up in the RI Christmas lectures. The freer, wilder stuff engages my body and heart just as readily as yer anthems. The crowd are as vociferous in their response to 'Morning Mr. Magpie' as they are 'Exit Music'. In fact, as convincingly deranged as 'Climbing Up the Walls' is spat out, it seems almost like an archaic curiosity; tethered and lurching, a reminder of how far things have come.
Under cloudless navy skies, Jonny Greenwood twists the dial through static and local radio station prattle. Bass dirt. 'The National Anthem'. I look from the stage, to the rapt movement of the crowd, back to the skies. This moment is violent magic. For the hushed tones of 'Codex' there is a respectful monastic silence; no vulgar calling out here. Same zeal. Same lager capacity. More noise. No dickheads. It's a miracle: my previous live experiences with Radiohead in the UK have been mixed; sometimes, far reaches of vast venues have been unreachable, too many waiting for the guitar standards and believing their absence is just contrariness on the band's part; the band seemingly aware of this impasse, tentative and not at their sure-footed best. When there is more a sense of occasion and less of a treadmill, they seem to flourish and can push things as far out as they want. 'Airbag' is raucous, distorted and attacked with more shape-throwing rock abandon than I've ever seen before.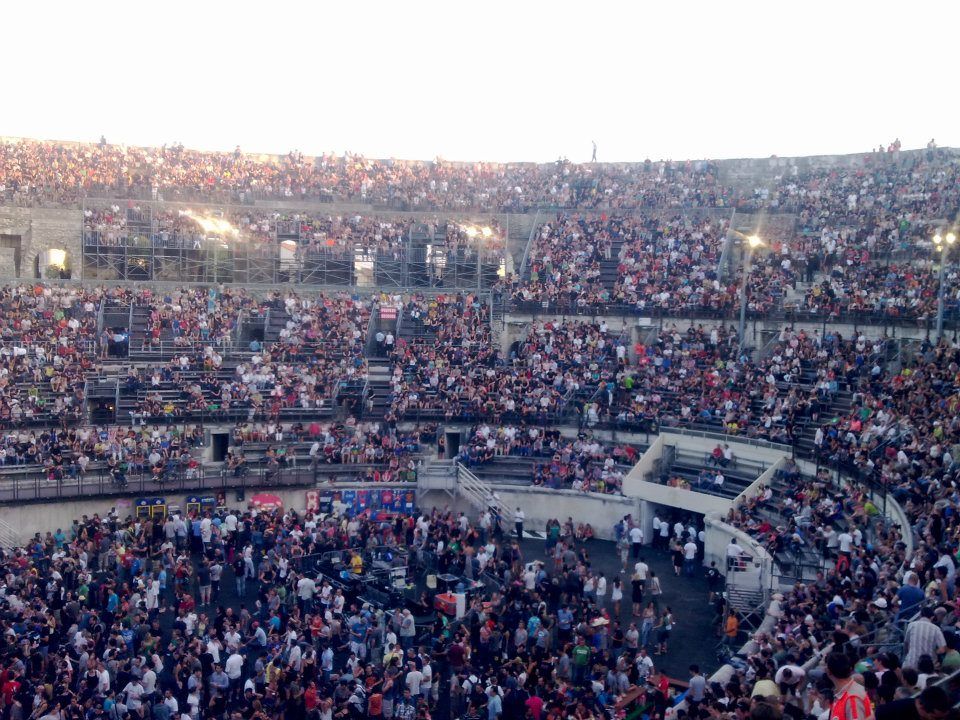 A thunder of planks being stamped on in unison greets the first encore. It's imposing and a bit worrying; I suppose if it's lasted over 2000 years, the place isn't about to collapse now. 'Reckoner' sounds infinitely better live than its somewhat flat incarnation on 'In Rainbows'. Thom Yorke is right in your lughole, the music more tangibly emotive and sexy, in a skinny-arsed sort of way. 'Myxomatosis' snuffs the candles out with its evil powerloader riff and stuttering interludes; I try dancing to them, with limited success. The closing three-card trick of 'Everything In Its Right Place', 'Idioteque' and 'Street Spirit': the contented father, the petulant son and the holy ghost, confirms that few bands have as broad a palette as Radiohead while ultimately remaining themselves.
Without having to act like holiday camp entertainers, they have overcome recent tragic setbacks and whipped Nîmes into a gooey soufflé. A portion of media and fans now work themselves into a lather over their expectations of Radiohead; over what comes next, what pricing paradigm, what cryptic morsels will point the way forward for a group that confounds the rockists and fascinates the chinstrokers. Admittedly, the band hardly discourage speculation, but does it really have to be that complicated? Can't we all just move on now and take what we want from the music? It's been nearly twenty years since that muted chord for fuck's sake. It was good to forget all that shit, and just listen with everyone else here.
Main Photo courtesy of the excellent Eddie Janssens, Arena photo Craig Bibby
#Experimental #Indie-Rock #Radiohead #XL Recordings #Gigs #Darren Bibby
Posted: Tue 17 July 2012