Take a well-known commercial beast of a UK heavy metal festival and then imagine it smaller, cheaper, 10 degrees warmer, better beer on tap, and with a really eclectic mix of bands on show and you might get some way to understanding what the Bloodstock Open Air Festival is like. For reasons far too un-metal to go into I was only able to attend one day of this fine set up, but damn I enjoyed it. The distinct lack of mud was certainly a bonus.

I arrive to see Chthonic take to the stage, a Taiwanese band who really left their mark. If I was feeling lazy I'd refer to them as death metallers but that would only be because of the brutal vocals on show. Musically they offered more than that through a keyboardist but also the lead vocalist utilising an erhu (a traditional Asian string instrument) which added strong folk influences to the sound. I really took to them although I accept my judgement might have been impaired by the stunning Doris Yeh on bass. I'm in love.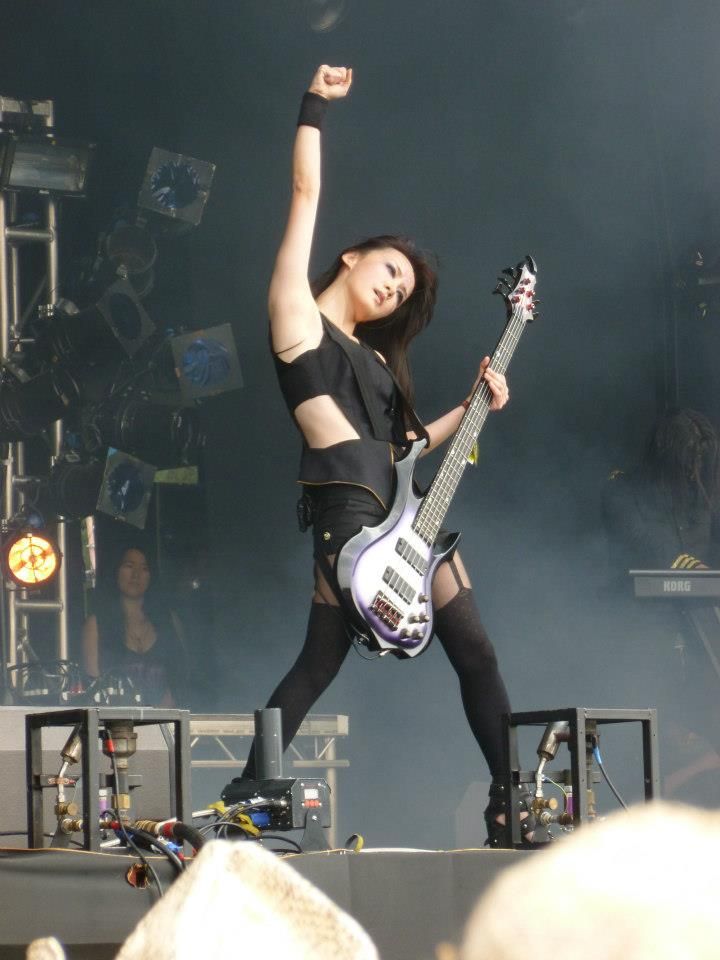 My judgement is also impaired whenever and wherever Crowbar play. They can do no wrong in my eyes and it's the same today. Songs like 'Conquering' and 'All I Had I Gave' sound immense in the Derbyshire sunshine. At the end of their set, vocalist Kirk Windstein awkwardly calls on the crowd to put their fists in the air so he can have a band picture taken with the audience as the back drop. "Sorry for the gayness" he apologises.

Next up are Norwegian black metallers, Mayhem, vocalist Attila Csihar preaching his inaudible message through an impressive microphone fashioned out of a skull and an inverted cross. I try to get into them. I fail. They're a tight outfit and pull in a sizeable audience at the main stage but I'm just not drawn to the high pitched screaming vocals. A riff or a 'tune' would have been nice too but no, so I head off to the Sophie Lancaster stage where I'm hit by the complete opposite of Mayhem, a band called Furyon. I assure you there was no fury on show. A quick look at the programme tells me what I already know: that this is a "rock radio friendly " band, so it's straight on to the New Blood Tent where I see Bull Riff Stampede and immediately feel more at home with some good old-fashioned thrash.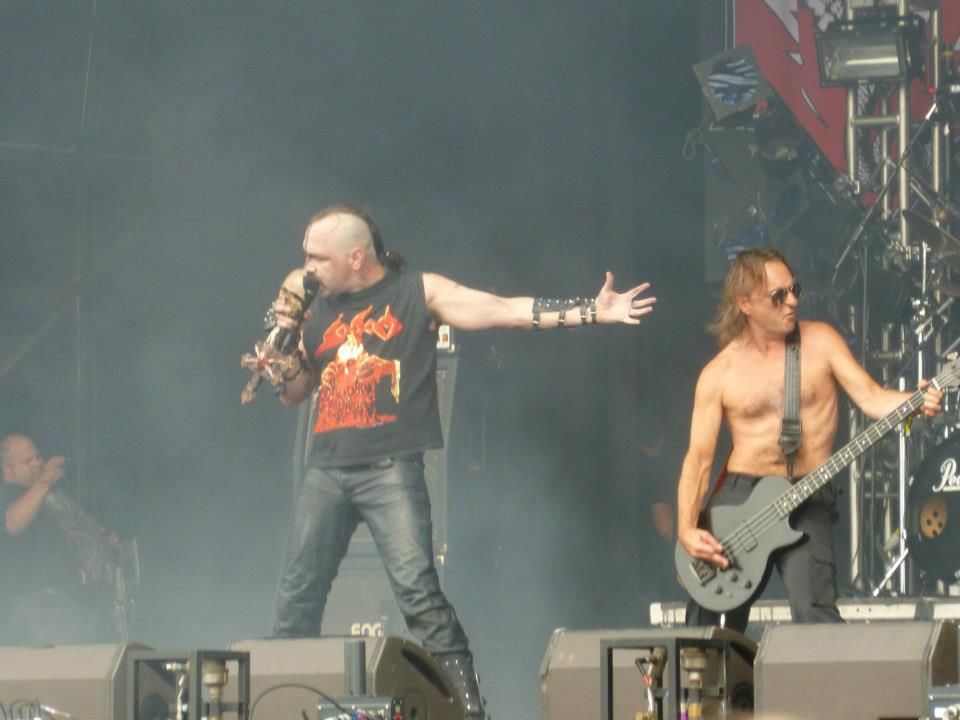 Back to the Sophie Lancaster tent where Winterfylleth win themselves a new fan. Like Mayhem these Brits are also labelled under the black metal banner but they sound worlds apart; the vocals a rasping growl, the music more structured with elements of folk about it. I'm reminded slightly of Primordial who I saw at Bloodstock last year, and they win me over easily.

Over at the main stage Sanctuary are doing their thing. They're perfectly watchable, their brand of clean-vocalled old style metal never sounding overly cheesy despite treading a thin line at times. Whereas Sanctuary are very much a polished high tempo act, I leave them to find Witchsorrow offering huge, slow, unfashionable doom metal riffs on the second stage. They sound awesome.
Hatebreed are not onstage 30 seconds before their circle pit insecurities are conveyed. I just wish bands could let their own music do the talking rather than imploring a crowd to run around in circles, but maybe I'm old fashioned. I leave them to see Sight Of Emptiness from Costa Rica, a band clearly influenced by Lamb Of God. Sadly for them, Hatebreed are a huge pull for most of the festival masses so they don't get the larger audience they deserve.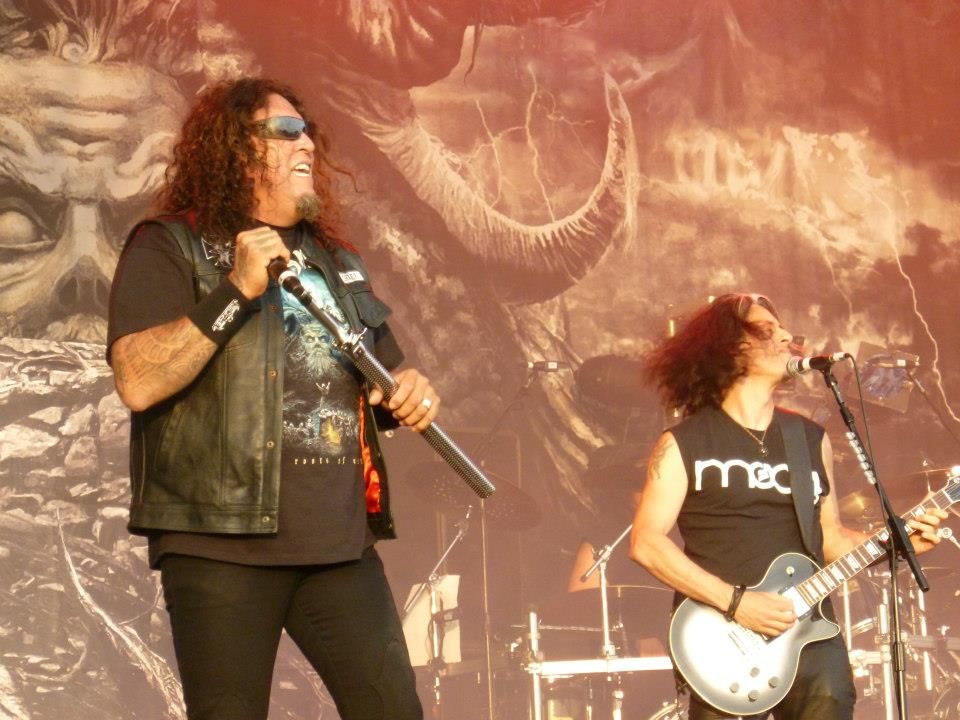 The first CD I ever bought was Testament's 'Souls Of Black' so I'm excited about seeing them for the first time on nostalgic grounds. Of course, just to spite me the bastards don't play a single song from that album but despite that they still manage to put on a solid set. Their new album 'Dark Roots Of Earth' isn't their finest work to date but the tracks they play from it sound bigger and better in a live environment, sitting comfortably alongside old thrash classics like 'Into The Pit' and 'Practice What You Preach'. My only criticism of the performance is the grinning and gurning lead guitarist Alex Skolnick, who prances about like he's playing for Motley Crue. Credit where it's due, he can play a mean guitar solo, but on stage he's just annoying.
I catch the last ten minutes of Orange Goblin in the second tent, enough to make me regret staying for the full hour of Testament and not seeing more of the Brit metallers, but then it's back to the main stage to see the closing act. Before travelling up North I'd read forums where people felt Machine Head headlining was a bit of a sell out for such a non-commercial festival. On this performance I reckon Rob Flynn and co converted most of the doubters. They were on top form. The bulk of the set is made up of their latest release 'Unto The Locust' and their debut album 'Burn My Eyes'. Flynn announces that tonight is exactly the 20th anniversary of Machine Head's first ever gig, and he seems genuinely chuffed to still be doing this sort of thing for a living two decades later.

As I head back to the car park I can't help but reflect that in the space of one day at Bloodstock I've seen more genres of metal than in three full days at Download. I also reflect on the fact that I appear to be leaving without Doris Yeh on my arm, but I suppose that will help keep the peace at home.
#Bloodstock Festival #Catton Hall #Metal #Banter #Jonny Crane
Posted: Mon 13 August 2012 Total Views: 743Views Today: 0